I felt the need to write something today. Mostly because of an observation that disturbed me. I feel that it is not something that can, with a clear conscience, go un-addressed.
Part of my daily missionary work is to be online. I use this time to find quotes and pictures, scriptures, etc. to share and uplift where I can. I had the thought to find a quote from my favorite novel and relate it to the Gospel in some way. I typed "Jane Eyre Quotes" into Google and waited . . .
I read Jane Eyre for the first time in Eighth Grade, I confess to being a very hormonal, hopeless romantic little 14-year-old who read the proposal scene about 4,562 times in one sitting. I'm pretty sure I have it memorized. I also have seen every adaption ever filmed and have a ranking list of my favorite Rochesters: Toby Stephens in the BBC Masterpiece Classics version is the forever standing #1. I consider myself an expert. But, my reasons for loving Jane Eyre have admittedly matured since I wore out my first copy of it. I'm still a hopeless romantic, but I can see past the timeless scenes and passionate declarations to the messages behind around and through them.
By now you have to be wondering what I'm getting at, why I'm writing this blog and if you're first time reader who is this broad and why does she have a picture of Jesus with her profile photo?
When I typed "Jane Eyre" into Google images, it came up with thousands of results, but I can't help but notice that one was more prominent than the others.
Go ahead, type it in, see for yourself. You'll see this quote on T shirts, book covers, purses, necklaces, bracelets, tattooed on people's backs in intense and dramatic script- everywhere! I have no issue with it, really. It's a good enough quote and it really does capture Jane in spirit. She is independent. She is completely and utterly free.
I think what bothers me is that it doesn't capture what MADE Jane free . . .
That quote is . . . quotable. But it is not the moment that declared Jane's independence.
I want to describe Jane Eyre. According to the book, Jane is a "quiet, plain, obscure, little, reserved, even-tempered, rational, sane, ethereal, dark, pale, blah blah blah" young woman. She has a keen, but subdued sense of humor. A strong sense of justice, but an exercised capacity for forgiveness. She is slow to react and schooled in her expressions. In fact, I imagine many of my more forwardly feminist friends would call her "repressed". Unable to express her emotions and confined by the dictates of propriety. . . I repeat, "blah blah blah."
But I don't think that Jane saw it that way. In fact the only moment that comes to mind is a moment most would see as a chance for freedom. Jane saw it as an imprisonment.
It's the moment that Edward Fairfax Rochester, the love of Jane's life, her other half, the demand of her soul, truly her EVERYTHING, is asking her to do something that is considered wrong. It is a violation of society, religion and morality and it is also against Jane's conscience. But is it something that Jane wants? Yes, actually. It is something that she wants desperately. But Jane knows that wanting it, does not mean that she would be happier with it.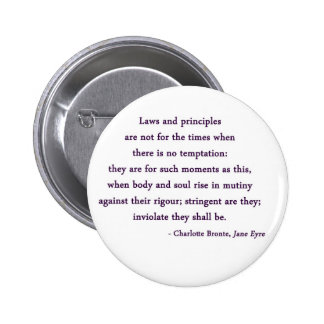 Above is the only image I could find that quotes this moment. It is the moment that declares JANE as something independent, alright. Independent of her body, her passions, her carnal needs and nature. She is free and has the will to say, "No." Yet, not to the "confining dictates of propriety", but to herself.
Jane gives a speech much more passionate and strong than the crumpling, emotional little chirp, that she is not a bird. This is her saying that she is a Woman of God. She knows that God's law is given to keep our souls free of guilt, pain and vice. She declares that breaching that law can only lead to pain and resentment. She says, no, and then frees herself from temptation. She leaves Mr. Rochester. It gives her pain to do do it, but not as much as staying would have. She leaves. She leaves, having faith that she will respect herself more and God will trust her more if she takes herself away and does not give into the "demands of her soul". She leaves and she is blessed for leaving. Not right away, not in the way she would want and not all at once. But those who have read the book or seen the film know that God was merciful and she had every blessing she needed by the last page.
The reason I'm writing this blog is because I think the meaning of Freedom has become lost in recklessness. The internet has focused on one moment in the story that seems to declare that Jane can do anything she wants. It's her independent will. She is not a caged bird. And she's not. But what inspires me about Jane is always what she doesn't do. Jane says that being free is using your will to do what is right, even if it isn't what your heart seems to want.
"I, the Lord God, make you free, therefore ye are free indeed; and the law also maketh you free." Doctrine and Covenants 98:8
The laws of God are to protect us, but they only help us if we choose to follow them. We are not birds and no net ensnares us. We are free human beings and Children of God with independent wills. That we can exert to flee from what we know will hurt us.
"Wherefore, men are free according to the flesh; and all things are given them which are expedient unto man. And they are free to choose liberty and eternal life, through the great Mediator of all men, or to choose captivity and death, according to the captivity and power of the devil; for he seeketh that all men might be miserable like unto himself." 2 Nephi 2:27
I am a Jane Eyre Fan. I am a Daughter of my Heavenly Father, both influences tell me that I am free.